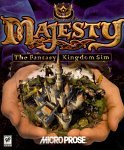 Majesty is a simulation game where you run a fantasy kingdom, though you don't directly control the heroes who live there. All you can do is place and upgrade buildings, hire heroes into your buildings, and place rewards for killing a certain monster or exploring a certain place on the map. Additional buildings of the same type become progressively more expensive to place.
It sounds simple, but it's the best single-player gaming experience I've ever had. I'm a sucker for simulation and god games, and Majesty scratches almost all of my itches. Your heroes make all of their own decisions about fighting, resting, running away, buying new spells, weapons, and armor (if you've provided the proper buildings).
The 2D isometric art is primitive, even for the turn of the century, but it doesn't matter at all. The gameplay is so immersive and entertaining that they could have used colored icons to represent the heroes and it'd still be fun. Each hero type is represented by a certain portrait which never changes, even when the hero upgrades its armor or weapons. Warriors can only be male, necromancers can only be female, etc.
Names for each type of hero are randomly generated from themed lists. Warriors are " the " like "William the Blue". Necromancers are "Sister " like "Sister Sleepwell". Some of these names are truly hilarious, and there are enough combinations that it's not too repetitive. Similar names for each class type help to identify them when you're looking at a textual list instead of the icons.
Speaking of lists and icons, Majesty includes an acceptable amount of ways to track your kingdom's inhabitants. It'll list them alphabetically, by level, or by class. It also lists your kingdom personnel, like guards and tax collectors (you don't control these directly, either). You can rename any of these, if you so desire. In times of peace, having Bob Smith defend the castle is more interesting than having Guard #3 do the same job. When war makes guard turnover high, employing a mass of faceless guards is just as well, since they all share the same character art.
One of the best aspects of Majesty is that the different classes behave differently. Rangers will sometimes go "exploring" off the map for a while. Thieves steal from buildings and tax collectors. Warriors, paladins, and chaos dudes live to fight. Healers prefer to follow warriors and provide assistance. Necromancers charm undead and raise skeletons to fight for them. Nature-dudes charm animals and can shapeshift into bears to fight. Wind protectors use their faster move rate to defend the kingdom. Sun ladies help the guards by garrisoning towers.
The different classes actually behave differently. Barbarians are very slow to upgrade their weapons, but paladins always want the latest in arms and armor and enchantments. Chaos dudes are often found in the gambling halls. Mages spend a lot of time resting. I wish there were a little more variability in actions (and that every class at a non-zero chance of undertaking a particular action), but that's only after playing for hundreds of hours.
Also, except in certain scenarios, some buildings are mutually exclusive. If you want necromancers, nature guys and chaos warriors, you can't have the very orderly healers, monks, and paladins. The wind guys and the sun ladies won't live in the kingdom together. Elves and dwarves won't move in where gnomes live. After you've played the heck out of the game, cheat codes enabling the placement of all buildings help extend enjoyment of the game. With the cheat codes, you can have fast-building gnomes, dwfensive-minded dwarves, mace-wielding sun ladies, and those masters of staves, the wind guys, all in one kingdom.
The last main point about Majesty is the voice acting. Each class and race has a phrase for use in different situations, like leveling or running away. My favorite are the phrases they utter upon their always untimely deaths. The gambling, cavorting elves say "No fun...at all." That phrase has been stuck in my head for the last seven years, but not everyone gets how relevant it is when I decide to use it. For this reason alone, everyone needs to try Majesty.
As far as I know, Majesty is the only game of its kind, seamlessly combining simulation, role-playing, and real time strategy. Though there have been rumors about a sequel for years (and even some concept art), a sequel never materialized. No sequel would make me happier than a sequel to Majesty.
There's a free demo at Majesty's website, and purchase information. I suggest you download and try the demo before you buy the game, since it runs very poorly (with quickspeed and crashes), if at all, on today's computers.