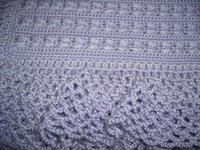 About a month ago, I was notified that this summer, I'd become an aunt for the first time. After offering my congratulations to the expectant pair, what did I do?
Like any good crocheter, I got to crocheting.
But not so fast.
First, I had to figure out what I was going to make. This wasn't so hard, since I wanted to make something useful, but also not too simple. I wanted it to be an item the child would treasure when it was old enough to treasure items handmade by a relative for them. This would be some time in coming, hence the usefulness requirement.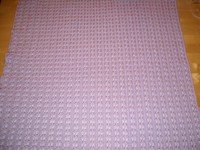 I browsed my pattern books and dragged the SO to the local
Michaels
to browse their pattern books and yarns. I went to that particular store because I wanted to get some good (read: machine washable) utility yarn. The interest in the item would come from the stitches.
We found a booklet which had a pattern for a blanket with a dense pattern stitch body and a wide, lacy border (Leisure Arts'
Baby Layettes and Afghans
--the afghan with set 3 beginning on page 21, Lacy-Soft Layette). I like a solid body for a baby blanket because there are no holes for fingers or appendages to leak through. I think it just makes using the blanket easier because it simplifies the baby-unwrapping procedure.
At least in theory, it does. I haven't made holey baby blankets, so I haven't been in a position to receive the kind of feedback that would confirm my supposition.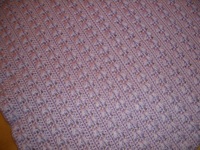 Next, I had to decide on a color for the project. My philosophy when making an item for a baby is to choose a color or colors that appeal to the baby's primary caregiver. After all, even if the baby has a preference, the caregiver's overrides it, since the adult is the one who's going to have to look at it all the time (including during washings). Also, in cases where the baby isn't born yet, the gift is as much to the mother/parents as to the child.
The soon-to-be mother of my soon-to-be niece is partial to purple. Easy enough. I chose a purple worsted-weight yarn (
Caron
Simply Soft
in Orchid 9911) because I had a bunch of it at home already. I love using yarn from my stash and it seemed it would work well with the pattern.
It did, but it didn't. The pattern is pretty and relatively easy to do, but it resulted in a very stiff, thick fabric. I worried, but my SO said it could be used as a floor blanket for the baby to sit (when it was old enough to sit) and play on. Even if it couldn't, I knew it was only one of the items I was going to give to them. At the very least, it would be impressive and go on a shelf to be passed down as useless "heirloom" things are. Not my intent, but not a terrible fate for it.
Since I figured it wouldn't get used, I made the lacy border pretty big. The one use for the blanket I could think of would be to put the baby on it for a photo shoot. The purple is pretty but not overwhelming and the pattern stitch and edging would make a nice frame for the baby.
Time will tell.